Coffee
Karmello coffee is the result of two years of trial and error; finding the optimal blend, roast and flavor to satisfy our customers' taste buds. After many experiments and hard work, we are proud of our Karmello Coffee beans. Thanks to it, you can experience the atmosphere of a cafe without even leaving your home.
We believe in the highest quality - but simply put, we just love roasting coffee! There is no greater satisfaction than enjoying a perfect cup brewed with Karmello beans every time.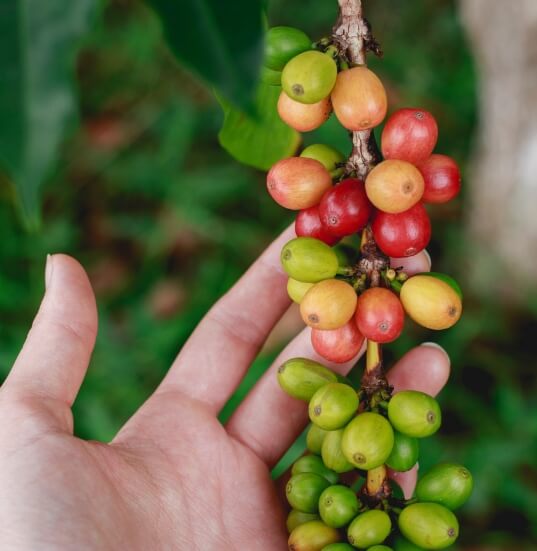 Coffee roasting process
The beginning of our coffee journey is the choice of a plantation of green coffee beans. Coffee differs in taste depending on the country of origin. Focusing on taste, but also on quality and repeatability - we import grains only from proven plantations.
selection
When the green coffee beans reach our roasting plant, the selection process begins. The beans are checked for size, moisture and impurities. All this so that the coffee that reaches you is repeatable. We also take care of your grinders so that no unwanted pebble will damage the burrs.
Roasting
Coffee roasting is a key process. The furnace of a German manufacturer who is a world leader in its field helps us in this. The artisanal approach to coffee is inextricably linked to its freshness. Each type of our coffee is regularly roasted by us, which guarantees that you are holding a package of the finest, freshly roasted coffee in your hand.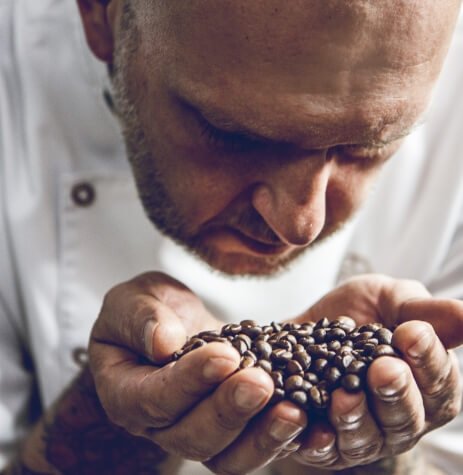 Control
Roasting coffee beans ends with testing, which will allow us to assess whether we have achieved the planned effect. Coffee that we are not 100% proud of does not leave our roasting room. We focus on full control at every stage: from the assessment of fresh grain, through the degree of roasting, to the final packaging. As with chocolate, the most important thing in our approach to coffee is quality.
The origin
Brazil
Ethiopia
Costa Rica
Mexico
Peru
Nicaragua
Types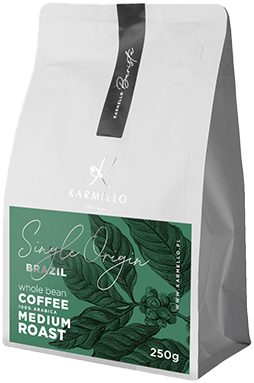 Origin
Taking advantage of many years of experience, after many months of testing and thousands of tried cups, we present the Single Origin line of coffee beans. Coffees from this line are roasted individually, which means that in one package coffee beans come only from one region or country. This allows you to preserve the full depth of aromas characteristic of a given region.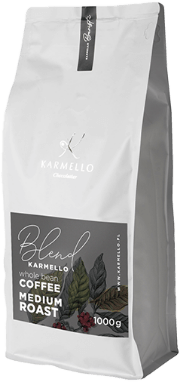 Blend
Our pride is Karmello Blend, which is a mixture of grains from different regions of the world. The greatest art in the coffee craft is the proper roasting of such a combination of beans that will work well in a professional espresso machine in a coffee shop, a home espresso machine, an overflow espresso machine, a coffee maker or an AeroPress.