Exclusive Mix Collection with Band Thank you
Out of stock
Oferta okazjonalna, tymczasowo niedostępna
Poniższe słodkie upominki stanowią przykładową, poglądową ofertę, jaką przygotowujemy z myślą o poszczególnych świętach i wydarzeniach okolicznościowych. Za każdym razem, uzupełniamy ją o nowe i jeszcze pyszniejsze pralinki i czekoladki na święta. Zapraszamy do składania zamówień w okresie poprzedzającym konkretne święto bądź szczególną okazję. Jeśli już teraz szukają Państwo pomysłu na słodki upominek - zachęcamy do zapoznania się z czekoladowymi pomysłami na prezent, które znajdują się na stałe w naszej ofercie.
For a gift
The chocolates are manufactured with the utmost care, now in the form of an elegant set, containing 25 pieces of the product. EXCLUSIVE MIX COLLECTION is composed of the best available flavors and aromas, hidden in the highest quality chocolate and decorated with the utmost care with various additives. The composition is perfect as an elegant gift.
| | |
| --- | --- |
| Expiry date (months) | 6 |
| Approximate weight (grams) | 210 |
| Package dimensions (cm) | 17x17x3.5 |
| Szukam prezentu rodzaj | |
| Szukam prezentu okazja | |
| Szukam prezentu smak | |
EXCLUSIVE MIXED FULL CHOCOLATE CHOCOLATES
Ingredients: sugar; cocoa liquor; cocoa fat; SOUR CREAM; Whole milk powder; glucose syrup; Sweetened condensed milk; BUTTER; Hazelnuts; emulsifiers: glycerol, lecithins (SOY, rapeseed); stabilizer: sorbitols; vegetable oils (palm, rapeseed); multi-flower nectar honey; crystallized invert sugar syrup; wheat flour; Red wine; raspberry mousse (raspberries; invert sugar syrup); mango mousse; passion fruit mousse; green apple mousse (green apples; invert sugar syrup; acidity regulator: citric acid; antioxidant: ascorbic acid); natural vanilla flavor; tomato concentrate; Parmesan cheese (pasteurized MILK; salt; lactic acid bacteria cultures; rennet); candied lemon peel (lemon peel; glucose-fructose syrup; sugar; lemon juice concentrate; preservative: SULFUR DIOXIDE); candied orange peel (orange peel; glucose-fructose syrup; sugar; acidity regulator: E330; preservative: SULFUR DIOXIDE); candied ginger; coffee beans; Dijon mustard (water; GORCZYCY grains; wine vinegar; salt; acidity regulator: E330; preservative: E224; contains SULPHATES); roasted cocoa beans; fully hydrogenated vegetable fat (coconut oil); alcohol; extra virgin olive oil; lemon juice; acidity regulator: citric acid; unrefined cane sugar; SOY flour; invert sugar; raising agent: E500; cinnamon; nutmeg; hazelnut paste; vegetable fats (coconut, palm kernel, palm, sunflower, rapeseed) in varying proportions; Skimmed milk powder; whey powder (from MILK); reduced fat cocoa; anhydrous MILK fat; cardamom; freeze-dried cherries; cayenne chili pepper; cognac; Tabasco sauce (vinegar; red pepper; salt); black pepper; instant coffee; emulsifier: E471; thickener: E440; salt; preservative: E202; freeze-dried raspberries; ground PISTA NUT; fragrances; saffron thread; crushed chillies; nutmeg; water; dyes: E102, E129, E132, E110, E171, E172, E104, E133, E 100, E 150d; Dark chocolate: Cocoa solids minimum 54.1%. Terra milk chocolate: 33.7% cocoa solids. Milk chocolate: Cocoa solids minimum 33.5%. Milk chocolate flakes: minimum 27.8% cocoa solids. Flakes chocolate: a minimum of 38.4% cocoa solids. Gianduja milk-nut chocolate: a minimum of 26.6% cocoa solids. Dyes E102, E110, E104 and E129 can have a detrimental effect on activity and attention in children.
Possible presence of: NUTS: ITALIAN, KIDNEY, ALMONDS; NUTS: EARTH, PEAK; EGGS AND THEIR DERIVED PRODUCTS.

Nutritional value 100 g of product
Energy value 2091 kJ / 502 kcal
Fat, 33.0 g
including saturated fatty acids 19.0 g
Carbohydrates, 43.0 g
including sugars 39.0 g
Protein 4.9 g
Salt 0.14 g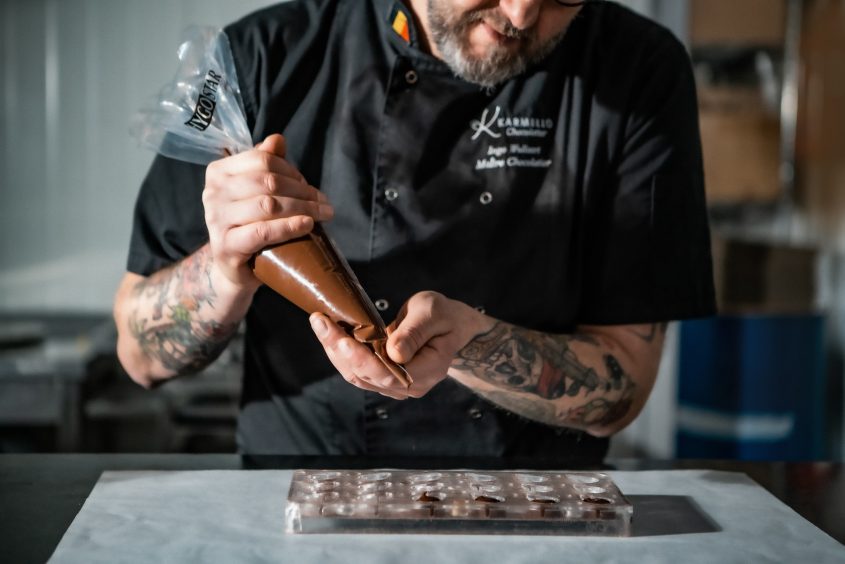 We haven't received a review yet. Do you like it?