Karmello Standard is an extraordinary proposition for all chocolate lovers who want to experience the most outstanding flavors of Karmello Chocolatier. The set consists of various flavors of chocolates, ranging from subtle, nutty notes to strong alcohol aromas, which will surely satisfy even the most demanding gourmets. In addition, the set includes chocolates with the occasional imprint "Kocham Cię Tato", which will be perfect as a gift for Father's Day, as well as a band with the inscription "Kocham Cię Tato", which adds a personal and unique character to the whole thing.
| | |
| --- | --- |
| Expiry date (months) | 6 |
| Approximate weight (grams) | 210 |
| Package dimensions (cm) | 17x17x2 |
| Szukam prezentu rodzaj | |
| Szukam prezentu smak | |
KARMELLO STANDARD MIX ASSORTED CHOCOLATES WITH FILLING (40 %) Ingredients: sugar; cocoa butter; cocoa mass; CREAM; whole MILK powder; HAZELNUTS; BUTTER; glucose syrup; ALMONDS; emulsifiers: glycerol, lecithins (SOYA, rapeseed); vegetable oils and fats (palm, rapeseed, sunflower) in varying proportions; stabilizer: sorbitol; rectified spirit; crystallized inverted sugar syrup; apple puree (apples; acidity regulator: citric acid; antioxidant: ascorbic acid); raspberry puree; raisins (raisins; cotton oil); mango puree; WHEAT flour; natural vanilla flavour; roasted, crushed cocoa beans; banana puree; candied sugar; Malibu liqueur; whisky; vodka; brandy; cognac; triple sec liqueur; cranberry liqueur; tequila; WHEAT malt flour; caramelized glucose syrup; whey powder (from MILK); passion fruit puree; instant coffee; MILK fat; ground coffee; starch (from WHEAT); unrefined cane sugar; SOYA flour; skimmed MILK powder; caramel sugar; cinnamon; nutmeg; salt; raising agent: E500; cayenne pepper; lactose (from MILK); MILK protein; glazing agent: E414; malt extract (from BARLEY); flavourings; colouring agents: E120, E100, E133, E172, E163; safflower concentrate; radish concentrate; fruit concentrates (black currant, apple, lemon); fat-reduced cocoa powder. Milk chocolate: cocoa solids: 33.5 % minimum. Milk chocolate with caramel: cocoa solids: 31.7 % minimum. Dark chocolate: cocoa solids: 54.1 % minimum. Milk and nut "Gianduja" chocolate: cocoa solids: 26.6 % minimum. The product may contain: NUTS, NAMELY: WALNUTS, PISTACHIO NUTS, CASHEW NUTS PEANUTS, PECAN NUTS; EGGS AND PRODUCTS THEREOF.

Nutritional value / 100g of the product
Energy value 2184kJ / 525kcal
Fat, 34.0g
of which saturated fatty acids 19.0g
Carbohydrates, 45.0g
of which sugars 42.0g
Protein 5.3g
Salt 0.12g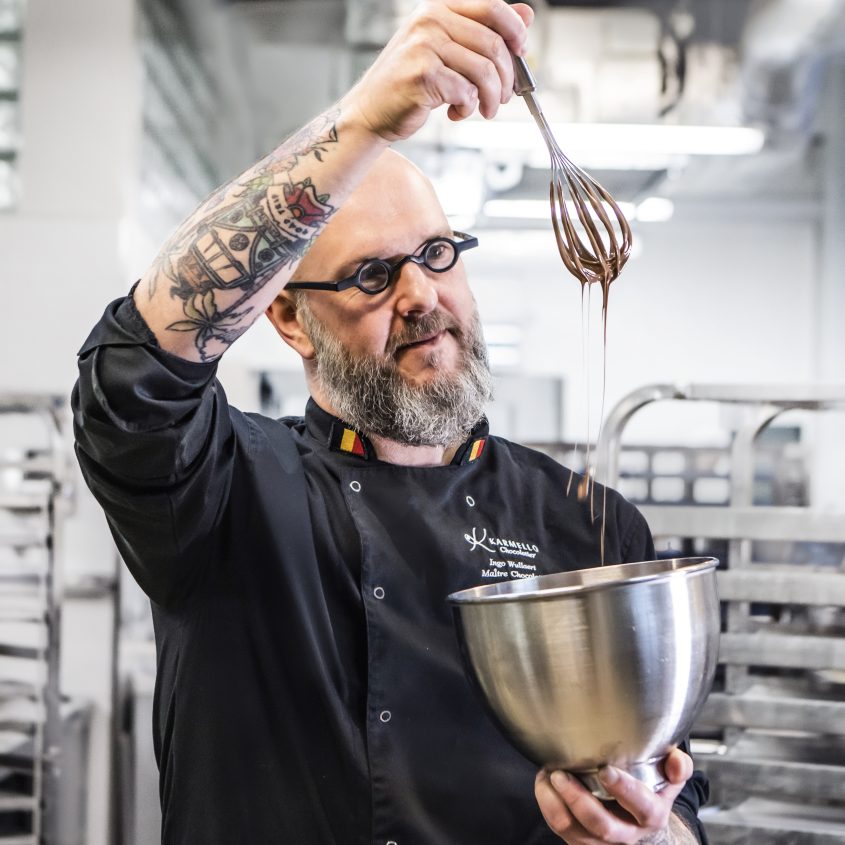 We haven't received a review yet. Do you like it?