Novelty! A set of student cookies in 9 flavors packed in one box. They will delight the eyes and palate of every recipient. The whole is packed in an elegant package decorated with a band.
| | |
| --- | --- |
| Expiry date (months) | 12 |
| Approximate weight (grams) | 200 |
| Package dimensions (cm) | 17x17x3.5 |
| Szukam prezentu rodzaj | |
| Szukam prezentu okazja | |
| Szukam prezentu smak | |
STUDENT COOKIES ASSORTED CHOCOLATES WITH FILLING (45 %) Ingredients: sugar; cocoa butter; cocoa mass; vegetable oils and fats (coconut, palm kernel, palm, sunflower, rapeseed) in varying proportions; whole MILK powder; HAZELNUTS; PEANUTS; powdered sugar; ALMONDS; PISTACHIO NUTS; coconut milk (coconut extract; water; emulsifier: E435); WHEAT flour; roasted, crushed cocoa beans; shredded coconut (dried coconut pulp, preservative: SULPHUR DIOXIDE); candy sugar; emulsifiers: lecithin (SOYA, rapeseed), glycerol; cocoa powder with reduced fat content; freeze-dried orange; skimmed MILK powder; glucose syrup; crystallized inverted sugar syrup; whey powder (from MILK); stabilizer: sorbitol; instant coffee; unrefined cane sugar; rice flour; salt; cinnamon; nutmeg; raising agent: E500; natural vanilla flavouring; SOYA flour; freeze-dried raspberries; acid: citric acid; MILK fat; glazing agent: E414; flavours; colouring: 150b. Milk chocolate: cocoa solids: 33.5 % minimum. Chocolate flakes: cocoa solids: 38.4 % minimum. Milk chocolate flakes: cocoa solids: 27.8 % minimum. Ruby chocolate: cocoa solids: 40.3 % minimum. Dark chocolate: cocoa solids: 54.1 % minimum. The product may contain: NUTS, NAMELY: WALNUTS, CASHEW NUTS, PECAN NUTS; SESAME SEEDS; EGGS AND PRODUCTS THEREOF. Nutritional value 100 g of the product Energy 2340 kJ / 562 kcal Fat, 37.0 g of which saturates 19.0 g Carbohydrate, 48.0 g of which sugars 45.0 g Protein 6.8 g Salt 0.19 g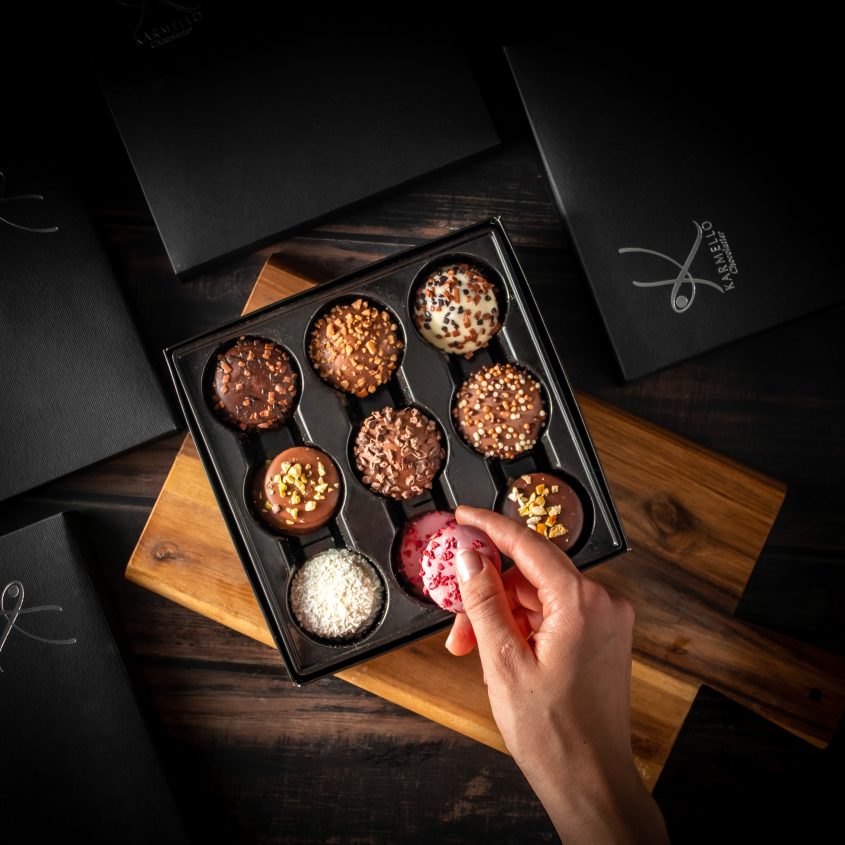 We haven't received a review yet. Do you like it?