The most delicate assorted pralines that melt in your mouth are a perfect composition for those who wish to enjoy the unique quality of Karmello chocolates. With its window box that adds to the overall appeal of the set, the pralines look like a perfectly matched, sweet puzzle.
| | |
| --- | --- |
| Expiry date (months) | 6 |
| Approximate weight (grams) | 205 |
| Package dimensions (cm) | 17.5x17.5x2 |
| Szukam prezentu rodzaj | |
| Szukam prezentu smak | |
COLLECTION OF 16 PRALINES ASSORTED PRALINES WITH FILLING (65 %) Ingredients: sugar; cocoa butter; cocoa mass; CREAM; whole MILK powder; BUTTER; vegetable fats and oils (coconut, palm kernel, palm, sunflower, rapeseed) in varying proportions; ALMONDS; crystallized inverted sugar syrup; WHEAT flour; coconut milk (coconut extract, water, stabilizer: guar gum); glucose syrup; coconut flakes (desiccated coconut, preservative: SULPHUR DIOXIDE); cocoa powder; chunks of WALNUTS rectified spirit; cocoa powder with reduced fat content; emulsifiers: glycerol, lecithins (SOYA); candied violet petals (sugar; violet petals; flavouring; glazing agent: gum arabic; colouring agents: E120, E132); natural vanilla flavour; freeze-dried cherries; unrefined cane sugar; stabilizer: sorbitol; skimmed MILK powder; emulsifier: rapeseed lecithin; whey powder (from MILK); SOYA flour; MILK fat; flavours; raising agent: E500; cinnamon; nutmeg; salt; MILK protein; malt extract (from BARLEY); lactose (from MILK); inverted sugar; starch; antioxidant: E306; emulsifier: sunflower lecithin; WHEAT malt flour; starch (WHEAT); glazing agent: E414. Dark Terra chocolate: cocoa solids: 70.5 % minimum. Dark chocolate: cocoa solids: 54.1 % minimum. Milk chocolate: cocoa solids: 33.5 % minimum. Milk chocolate flakes: cocoa solids: 27.8 % minimum. Chocolate flakes: cocoa solids: 38.4 % minimum. The product may contain: NUTS, NAMELY: HAZELNUTS, PISTACHIOS, CASHEW NUTS; PEANUTS, PECAN NUTS; EGGS AND PRODUCTS THEREOF. />Nutritional value / 100g of the product
Energy value 2249kJ / 541kcal
Fat, 37.0g
of which saturated fatty acids 21.0g
Carbohydrates, 44.0g
of which sugars 40.0g
Protein 5.5g
Salt 0.15g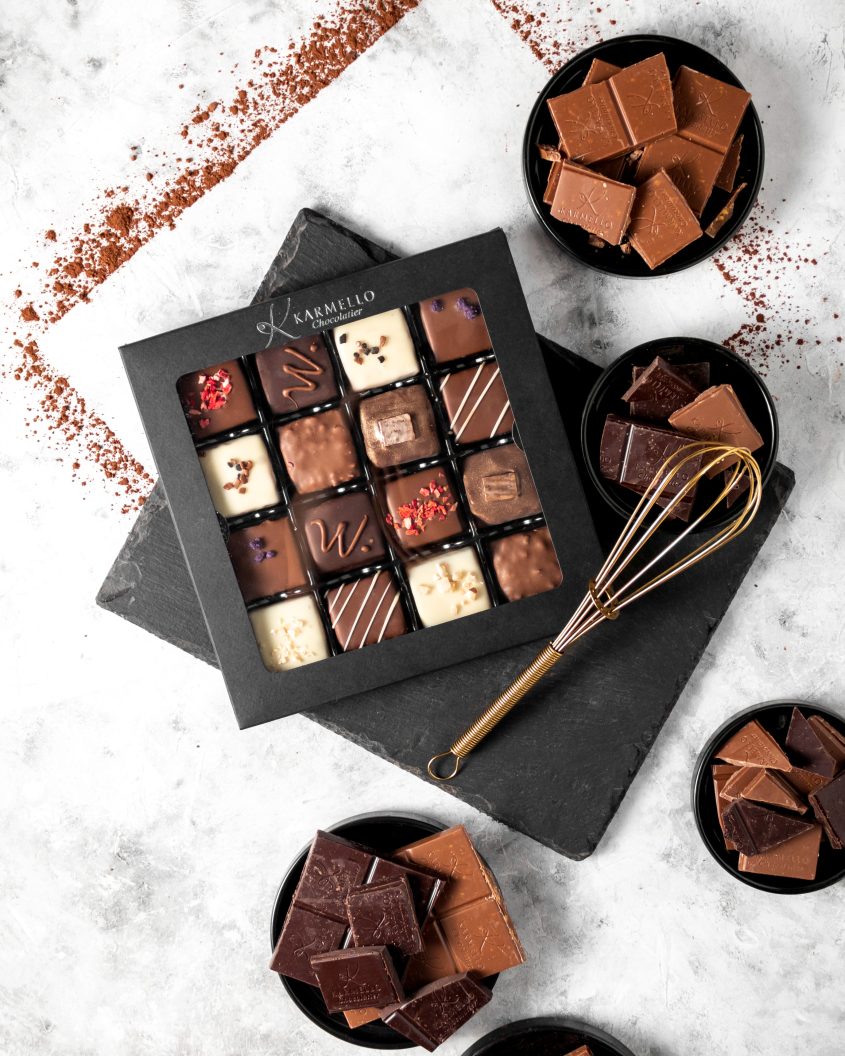 We haven't received a review yet. Do you like it?